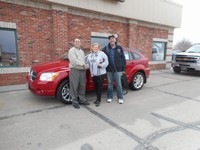 3/27/2015
I enjoyed doing business with Jessie and Clint today,not in a hurry or pushy, shopped around for the best interest rates.you feel like you are not only walking away with a new vehicle, but also a new friend. :)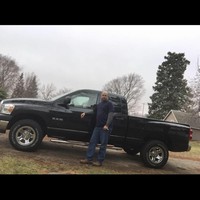 3/25/2015
Today I believe faith in humanity is restored. When you think "no pressure" then you need to think of Jesse & Clint. They sat down and listened to every word I had to say and they had a complete understanding in my financials. The entire clock tower staff worked with me until they found every favorable route to help me get into my new dodge. After all they did for me during this stressful times they took an extra step and delivered my truck to me at home. Thank you all very much, I will most definitely recommend clock tower auto mall to all of my friends and family.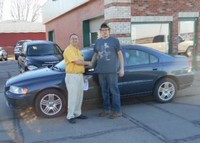 3/13/2015
"That was great" Had a very good experiance. Jesse understood what I was looking for and found the perfect car. Overall had a great experiance. Thank you very much.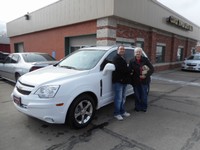 3/11/2015
If you are looking for a good vehicle with great service shop at Clock Tower. All of the guys were great, made us feel like family. Jesse was our salesman, thank you!!!!! Would definitely go to Clock Tower again for next purchase.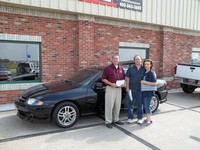 2/23/2015
Very Happy Couple from Columbus, NE | All we can say is thank god for Jesse and the rest of the staff at Clocktower Auto. My wife and I have been searching for a second vehicle for 4 months now. Everywhere we went I couldn't find anything that lived up to what I wanted. Then we were looking at their website one day and there it was. The perfect vehicle. Thank heavens we finally found a car that has everything I wanted. Thank You Jesse and the rest of the staff at Clocktower Auto.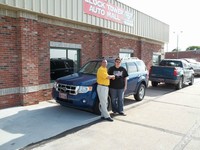 2/23/2015
Carol from Columbus NE | When I wanted a different car I went in and they had me test drive the Ford Escape they had on-hand. I wanted different features so I looked at MANY cars on-line and found the one I wanted. They brought it to Columbus and I was able to get a great price and still buy it locally. Jesse was a no pressure salesman and made me feel comfortable. I would recommend Clock tower anyday!! Oh yes I LOVE my new car!!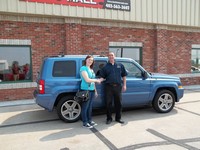 2/23/2015
Meagan from Norfolk, NE | I had been looking at cars for awhile and came across this one on the internet. My parents live in Lincoln so when my dad came down for a weekend I had him stop and take a look at the 2007 Jeep Patriot that was listed on Clock Tower Auto Mall. My dad and I then went about a week later to look at it again We appreciated Jesse's patience with us. Instead of showing the car to both of us Jesse took the time to show the car to me. The time taken to show me how to work all the extra gadgets in the vehicle is above and beyond what I expected. Your advice on how to get me into lower payments by having my dad co-sign to save me money is invaluable. My dad wrote, "She has been saving for a vehicle like this for a long time by working two jobs while attending college. Being able to purchase this vehicle rewards her for all of her efforts and I like the safety features of this vehicle. I am sure she will keep it for a long time."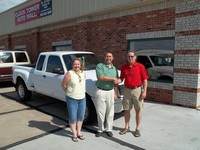 2/23/2015
Coach from Concordia, Ks | staff at clock tower was very friendly and helpful, went out of their way to work with us on making a trade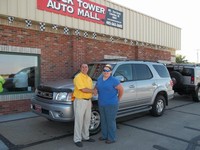 2/23/2015
Toyota Lover from 51401 | I just purchased my new to me Toyota Sequoia from Clock Tower Auto Mall. I delt with Jesse and was very impressed with EVERYTHING! They were quick, very courtious, and had a very nice facility. I would deal with them in a heartbeat.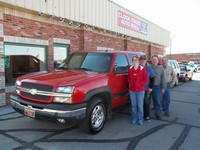 2/23/2015
Trucks from Bruno, NE | We received great service and a fantastic vehicle!!!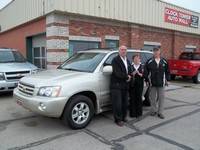 2/23/2015
Harriette from Columbus, NE | This whas the most enjoyable experience in finding a car. We have been looking for over 6 months and finely found just the right car for the price here. Jerry was very friendly and knowlegeable. We will be back when we start looking again. Going to start here!!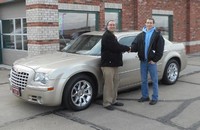 1/29/2015
My truck broke down and really needed a car so with in 2 hours of emailing Clock Tower Auto Mall i got a call on this 300 and by that night I had it. So really helped me out!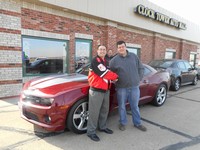 1/29/2015
This is my third vehicle I have bought from Jesse. They have always treated my very well here and that is why I keep coming back. Thank you guys for making me feel at home and making the car buying experience amazing as always!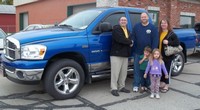 1/29/2015
Thank You Clock Tower! Jesse Bordy and John Adamy are the best at taking care of all our auto needs. I met them when they were employed at another dealership and had to follow them on their own adventure. They took care of all the little things. I was comfortable and had no worries. John takes care of the people and IS NOT out to get rich quick. They are Honest! Thats what makes me a repeat customer.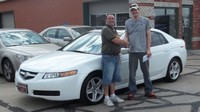 1/29/2015
They helped me find exactly what I was looking for and I was not pressured in any way.

1/29/2015
This is a super place to buy a new auto or truck. They are very nice to work with you to find you something you what. We will tell all our friends to come here to get something new.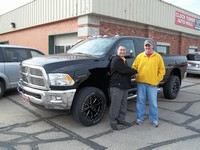 1/29/2015
I wanted to say that John, Jesse and the whole Clock tower Crew did and excellent job locating my new Ram truck and getting me the best deal available! I would recommend all of my family and friends to them! Great job guys!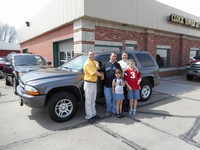 5/30/2014
Eric T from Lincoln, NE | Jesse and Clint are just amazing. When it comes to customer service, Jesse and Clint went above and beyond my expectations. Jesse took the time out of his evening to answer any questions I had, whether it was with a phone call or text message. Quality of vehicles on the lot is wonderful. I would recommend Clock Tower to anyone looking a purchasing a used vehicle. I made an hour and a half drive to do business with Clock Tower and I would not hesitate to do it again. Thank you Jesse and Clint!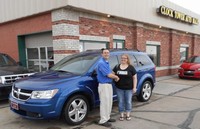 5/15/2014
Tina from Columbus, Nebraska | I talked to Jesse Bordy about the type of vehicle I wanted, and he found me the PERFECT vehicle. If I wouldn't have liked any of the vehicles they had, they would look for one for me that I did like, which was awesome to know, because I have never had a dealership that would do that before. They were so friendly and felt like I knew them for years (which I had just met them.) I would HIGHLY RECOMMEND buying your vehicle from Clock Tower Auto Mall.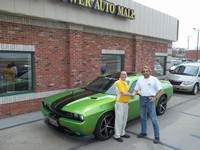 4/19/2014
Mitch from Chama, New Mexico | We purchased this 2011 Dodge Challenger SRT8 thru Ebay after speaking with Jesse Bordy at some length. Jesse was very knowledgeable about the vehicle's history, having known its previous owner, who certainly took excellent care of the car. At first, we were a little apprehensive about purchasing sight unseen ( other than pictures on Ebay). Clint explained the title transfer in detail as well as in writing which dispelled all apprehension. Jesse assured us the that we would not be disappointed and after traveling about 800 miles to pick up the car he was right. Everything was Excellent, Just As Presented !!! This was definitely my most pleasurable and enjoyable vehicle purchase ever. Thank You ALL at Clock Tower Auto Mall !!! --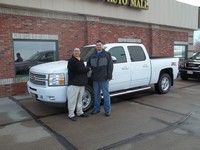 2/20/2014
Jon from Columbus, Nebraska | Jerry, John, Clint, & Jesse have treated me great both times I have purchased vehicles from them. Being a repeat customer they knew exactly what I was looking for and provided me with the best deal around. I have never been so excited about purchasing a new vehicle and the purchasing process was painless. I would highly recommend stopping by and visiting them if you are in the market for a new vehicle, you won't be disappointed. --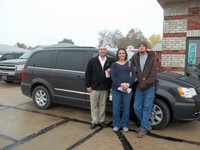 12/3/2013
Neely Gernstein from Columbus, NE | My husband and I worked with Jesse Bordy and he was great to work with. Jesse and the other employees at clock tower auto gave us a good deal and got us in a 2012 Chrysler Town and Country. We drove away as happy customers! --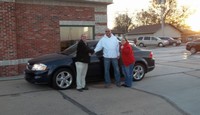 12/3/2013
Kaela Heft from Columbus Ne | We had a great experience with Clock Tower. Jesse did everything in his power to take care of our needs. We purchased a 2013 Dodge Avenger and love everything about it. We will never purchase a care anywhere else. Jesse thanks to you and your team for everything you have done to make our experience wonderful! --

4/11/2013
Guy from Columbus, NE | Jerry, John, Clint, & Jesse Treated me like a valued family member. They went above and beyond to find me exactly what I wanted that fit into my budget. They gave me a fair price on my trade in and Clint and Jesse walked us through the financial side painlessly and effortlessly. Clocktower Auto made the whole experience fun! --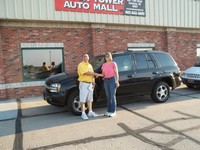 9/6/2012
Cheri from Columbus, NE | When the vehicle I first looked at didn't quite fit my budget, they found one for me the next day that did. Overall a great experience. --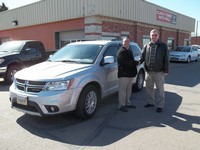 8/14/2012
Emanon from Columbus, NE | Yet, again, Clock Tower Auto Mall has proven in every way that's it's THE place to buy a car. And if they don't have what you want on their lot...they'll find it for you...new or used which is how I got this Hyundai. It has only 11,000 miles on it and it truly is like new! Best of all, Jesse and Clint went well beyond any "regular" dealer would do... and I've purchased a LOT of cars over the years! Save your time AND money by just going to Clock Tower Auto Mall for your nest vehicle. You'll not be disappointed. --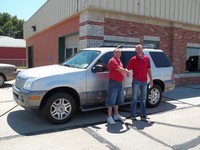 7/10/2012
ShoeMan from Columbus, Ne | I just purchased a used Mercury Mountaineer from Clock Tower Auto Mall and it was the easiest time I have had buying a vehicle. There was no hassle and they gave me a great deal.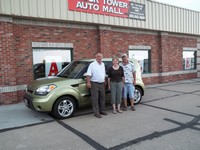 6/18/2012
Author from Hadar, NE | We have shopped for used cars several times in our 25 years of marriage. This time was by far the easiest. I knew I wanted a Kia Soul in the color Alien. I kept waiting on a local dealer and had stopped in a couple times to the point I felt I was being a bother. I decided to see what I could personally find online. Within 5 minutes I found this car in Columbus. Within 10 minutes, Jerry called me back. My husband and I checked it out that same evening. The entire office was friendly. I stopped back the next day with our trade in title and to pick up the CD's I'd left in the trade in. They were just as friendly. What great people to work with. I had read the testimonials before we went out of town. They were busy with other customers being treated just like we were.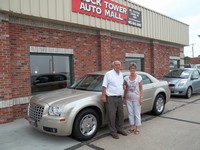 5/23/2012
Shirley from Ord, NE | There is always a certain amount of dread when the time comes to purchase a vehicle. Being self employed, I am strapped for time and was very pleased at how easy it was to shop on-line. There were no surprises from the pictures on the internet and upon seeing the car when I arrived at the dealership. The entire staff was very professional and at the same time fun. Everyone knew their job and done it well which made the process of buying a vehicle very pleasant for me. I felt I was treated fairly with respect to the trade-in of my old car and the purchase of the new one. --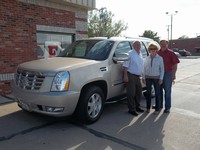 4/20/2012
Very Particular from Columbus, NE | Very high standards of car selling. My trade-In was in good to excellent condition and these guys went all out to demonstrate how much they wanted to sell me this vehicle. My highest recommendation to other potential buyers. They worked extremely hard to "sell me" a vehicle and this vehicle was in outstanding condition when I purchased it from them today. --

4/14/2012
Randy from Fairfax, Mo. | While searching for just the vehicle I wanted I came across such a vehicle on the lot at Clock Tower Auto Mall. Contacted Jesse and made arrangements to visit the business and inspect the vehicle. I had to travel 3 hours to get there and was pleasantly suprised that the vehicle was exactly how it was presented. Wonderful, no pressure buying experience. All the guys were great to deal with and visit with. Would highly recommend anyone to give these guys the opportunity to help you with your vehicle needs. Great bunch of guys to deal with.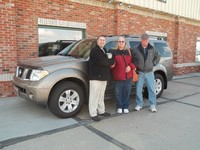 3/21/2012
Angelsunaware from Platte Center, NE | They were so easy to work with. Showed us exactly what we wanted and did not show us anything else. Not pushy and showed us that we could trust them. Took almost an hour showing us the gadgets on the car and how to run them after we purchased the car. Even set up the synch with my phone. Had a question the day after purchase and they took care of it quickly. Got to know each person in the dealership. Beautiful car, at a good price. We will come back to Clock Tower Auto Sales next time we need a car.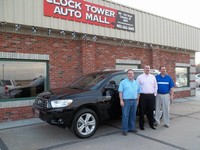 3/17/2012
Banker from Columbus, NE | The part of my experience that I was most impressed with is that these guys went through the extra effort to find me the car I wanted, and to bring it to their lot for me. I was not limited to what I saw, but rather limited only to what I wanted. It worked great, my wife and I got a fantastic car, and we could not have done it without Jesse, John, Jerry, and Clint. Thanks guys.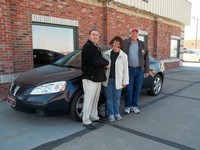 3/8/2012
Pontiac Gal from Columbus NE | Saw the ad with the car I was looking for. Check out the car and with a few, very friendly, phone calls purchased it the next day. No high pressure. Everyone friendly and a pleasure to work with. Jesse and the guys made it easy and fun. They are there after the sale. Thanks Jesse.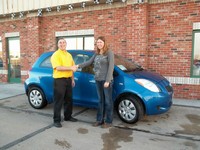 1/27/2012
Shelby from Rising City, NE | I contacted Jesse and within 2 weeks he located the specific car/color I requested and got it delivered from out of state at no extra charge. Clint took care of the finacial arrangements and even dealt with my insurance company for me. Best experience I have ever had buying a car. Even though they have many customers they treated me like I was their only one.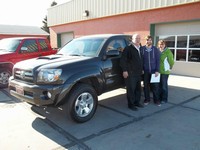 1/21/2012
Brandon from Columbus, NE | I recently just purchased a 2009 Toyota Tacoma and I am very happy with the purchase anf overall experience at this dealership. Customer service was great, they worked with me to get the truck into my price range and the finace and paperwork portion was quick and easy.